CACCRAO Annual Conference
April 23, 2017 - April 26, 2017 12:00 pm
DoubleTree - 7450 Hazard Center Dr, San Diego, CA 92108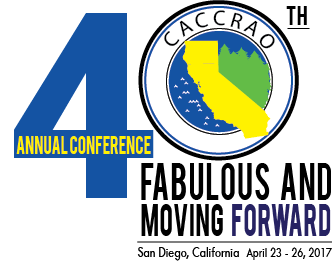 2017 Annual Conference
DoubleTree - 7450 Hazard Center Dr, San Diego, CA 92108
The 2016 – 2017 Executive Board extends an invitation to you to register for the 40th Annual CACCRAO Conference, April 23 to April 26, 2017 at the DoubleTree by Hilton in San Diego, CA.
As part of your conference preparation, please update your information in the CACCRAO directory and think about nominating a deserving colleague for the Robert Brown Service Award.
The 2017 CACCRAO Conference is the place to be! Mark your calendars!
Register Here
[tc_event]
Hotel Information
Hotel reservations can be made using the reservation link below.  The location of the conference is at the DoubleTree by Hilton in San Diego CA.
7450 Hazard Center Dr,
San Diego, CA 92108
Reservations should be done online using the reservation link: https://aws.passkey.com/e/16304997 Price is discounted until March 31st
Registrants are responsible in making their own hotel reservations.  Block rates are $149.00 for April 23 to April 26.
Conference Fees Refund Policy
Full refund less $25.00 processing fee if requested by March 24. Refunds will be processed after April 30. No refunds for cancellations received after March 24, 2017.  Ticket may only be used by the person named on the ticket.
Session Proposals
If you are interested in presenting on a particular topic, please fill out the CACCRAO 2017 Conference Session Proposal form below: