Welcome to the 2021 Annual Virtual Conference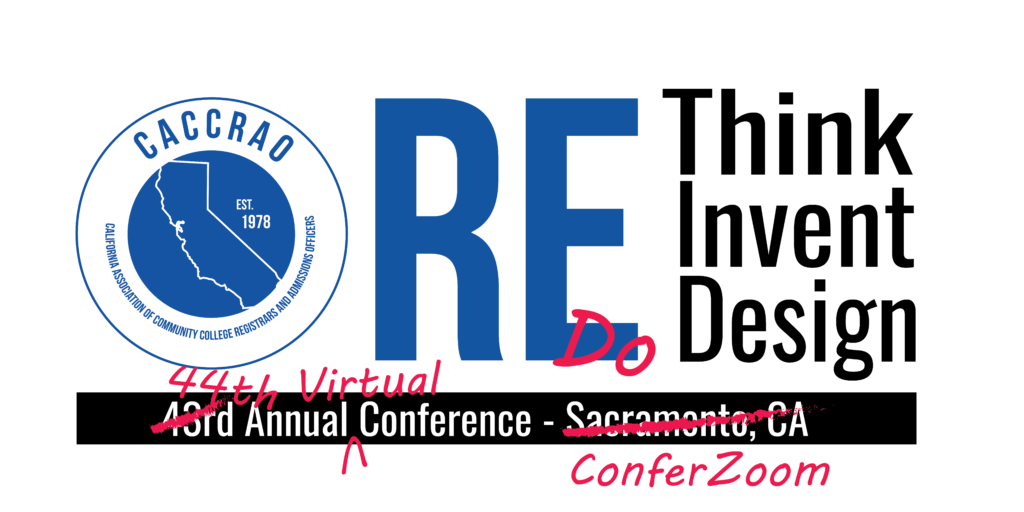 Due to COVID-19 we have decided to have our 44th Annual Conference in an online format.
As part of your conference preparation, please update your information in the CACCRAO directory and think about nominating a deserving colleague for the Robert Brown Service Award.
The 2021 CACCRAO Conference is the place to be! Mark your calendars!
Conference is open to all staff at member colleges. Be sure to use your member code when you access registration below:
https://www.eventbrite.com/e/146818308513/
Agenda
Monday:
9:00am to 9:50am – Opening Keynote and Welcome
10:00am to 11:30am – 320, Attendance Accounting and COVID, Residency and AB-540
1:00pm to 1:50pm – Dual Enrollment (with SB 554)
2:00pm to 2:50pm – Financial Aid and A&R
3:00pm to 4:00pm – CCCApply Updates
Tuesday:
9:00am to 10:30am – Legislative Updates and Updates from CO
11:00am to 11:50am – Credit for Prior Learning
1:00pm to 1:50pm – Self-Care During a Global Pandemic
2:00pm to 2:50pm – CACCRAO Business Meeting
3:00pm to 5:00pm – Closing Keynote with Dr. Abdilmalik Buul